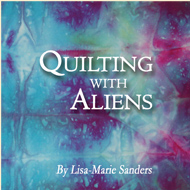 Only $9.95

Lisa-Marie Sanders enjoys quilting and its traditions so much that she was inspired to write the book

Quilting with Aliens. As an award-winning quilter, she promotes the art form whenever possible; she has even recruited her husband to help with quilting projects. Most recently, he dyed the fabric that was used as cover art for her book.

Lisa-Marie still works full time at the company she founded: The Human Dimension, Inc. She is the author of several business books (Ethical Muscle, Leading Change) and has been published in the Florida Today newspaper.